At Canberra Grammar School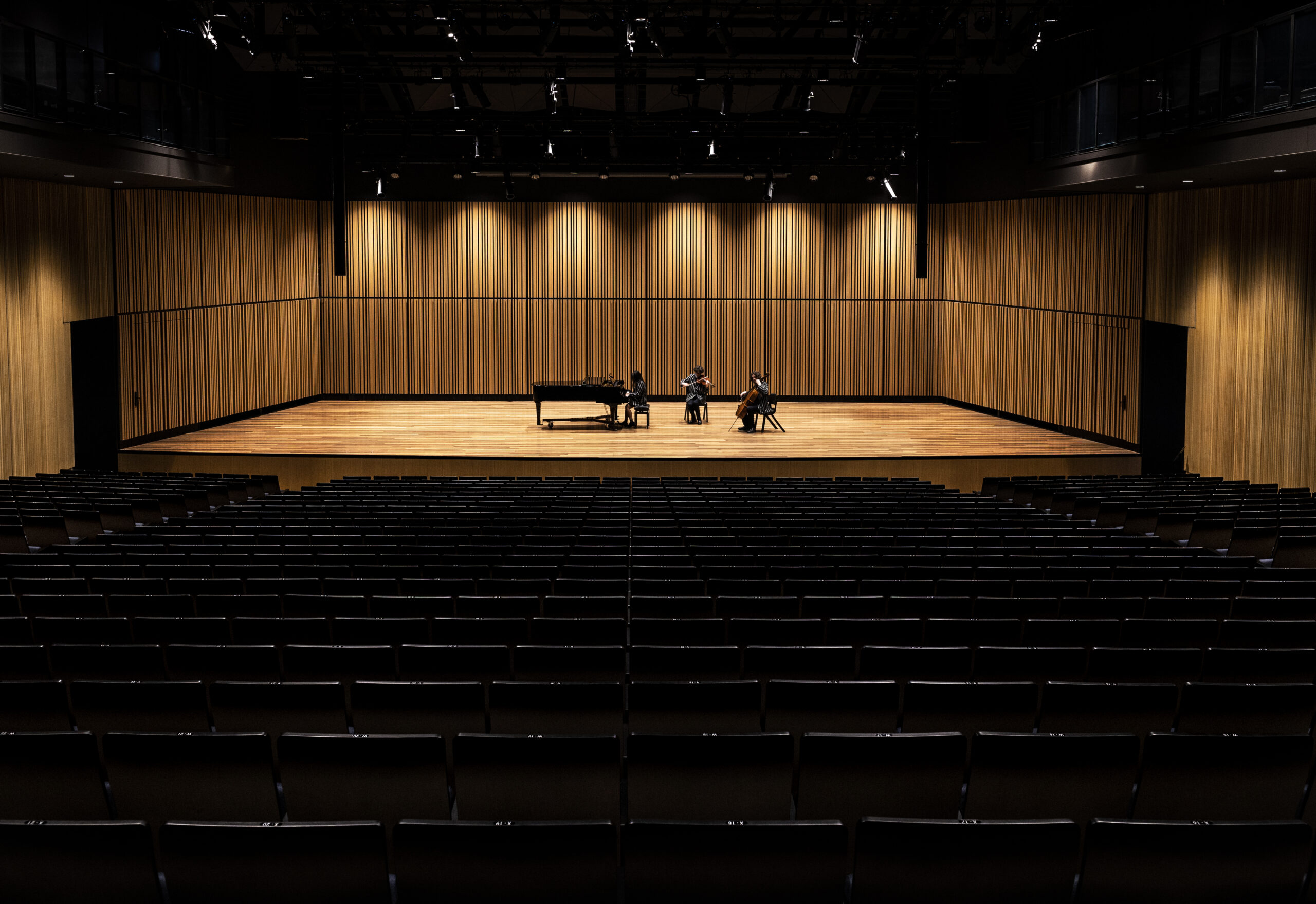 New world class music performance venue for Canberra.
A stunning new music venue for the ACT nestled in the Canberra Grammar School Red Hill campus.
The 936-seat Snow Concert Hall was made possible by an extraordinary gift from CGS Alumnus, Terry Snow AM and has substantially enhanced the School's capacity to deliver its commitment to educational and musical excellence. 
The Concert Hall sits at the heart of the School's campus and includes a new Music Centre with 17 music tuition rooms, 4 acoustically designed rehearsal classrooms, meeting facilities and a new modern library on the upper floor.
A venue that enriches the musical landscape of Australia's capital will host a wide range of concerts including local artists, community music groups, visiting orchestras and internationally renowned talent. 
About Snow Concert Hall, the CGS Music Centre and Library
The Snow Concert Hall opened in August 2022. The purpose-built facility has an acoustically-tuned auditorium with 936 seats and balcony bench seating for an additional audience of up to 400 people. The Concert Hall is part of the new complex which also houses the new CGS Library and CGS Music Centre including 17 music tuition rooms, four rehearsal/classrooms, and multiple meeting spaces.
Situated at the heart of the Canberra Grammar School campus, the facility serves as the School's centre for music and learning while offering a significant new music performance venue for the broader community to enjoy
Designed by Cox Architecture, the Snow Concert Hall's modern structure was created with sustainability in mind, using renewable geothermal energy to provide highly efficient heating and cooling all year round. The design honours the architectural legacy of the School, including its heritage Quadrangle.
Designed to be transparent, the Library and Atrium above the Snow Concert Hall provide striking views into and out of the Quadrangle at the heart of the School campus. The spacious Atrium offers facilities for indoor gatherings, functions and teaching and learning. The Library provides an attractive area for reading and research both during and beyond school hours.
Building information:
Construction commenced late 2019 and was completed August 2022
Designed by Cox Architecture, built by Construction Control
Acoustics by Marshall Day Acoustics.
936 seats in the stalls and seating for an additional 400 audience in the gallery.
4 music/rehearsal classrooms
17 music tuition rooms
1 music staff room
Approximately 450m2 library and independent learning spaces.

Mechanical Services
25,000 meters of Geo-thermal pipework circulating 32 liters of water per second
14 cubic meters per second of conditioned air delivered to the auditorium
40 plus acoustic attenuators to minimise AC noise in the auditorium
Audio Visual capability
8m x  5m screen
20,000 lumens stage screen projector
6 x 3m x 2m screens at gallery level
8 x HD Television Screens 
Column speakers & steerable beam speakers
3 x pan-tilt-zoom cameras for recording and live streaming
Explore Snow Concert Hall
Browse through our gallery to explore the venue.
Snow Concert Hall Benefactor
TERRY SNOW AM
 
The 936-seat Snow Concert Hall was officially inaugurated in August 2022. The build was made possible by an extraordinary gift from CGS Alumnus, Terry Snow AM. This generous donation substantially enhances the School's capacity to deliver its commitment to educational and musical excellence.
Terry Snow is co-founder of the Snow Foundation, Executive Chairman of Canberra Airport and the Capital Airport Group as well as owner of Willinga Park. Terry and his brother George established The Snow Foundation in 1991 to benefit the disadvantaged community in Canberra and beyond. Their goal was simple: When you see someone struggling, give them a helping hand.
In 2006, Terry was awarded an Order of Australia for his contribution to the city of Canberra, as well as for his charitable work through the Snow Foundation. In October 2009 Terry was announced as the inaugural recipient of the Canberra Business Council's Chairman's Award for his significant individual contribution to the economic development of Canberra and the capital region.
In 2022, Terry and Ginette Snow were jointly awarded the inaugural Chuck Feeney Award for Philanthropy acknowledging the Snow family's commitment to supporting visionary medical research in Australia through their second philanthropy, Snow Medical.